Gingham is a print that brings to mind a lot of iconic imagery. Picnic tablecloths and Dorothy from Wizard of Oz are probably the most obvious examples. But what's most interesting, is that despite the fact that many countries claim it as their classic print, it's cultural origins go back much farther. It's thought that the word is derived from the Malaysian word genggang or "striped."
Throughout history, gingham has come to represent a myriad of things -- wartime utilitarianism, classic French style, preppy white suburbia, sports, and now, the fashion it-crowd. It's clear gingham has a versatility and timelessness to it that makes it a staple, and not a trend.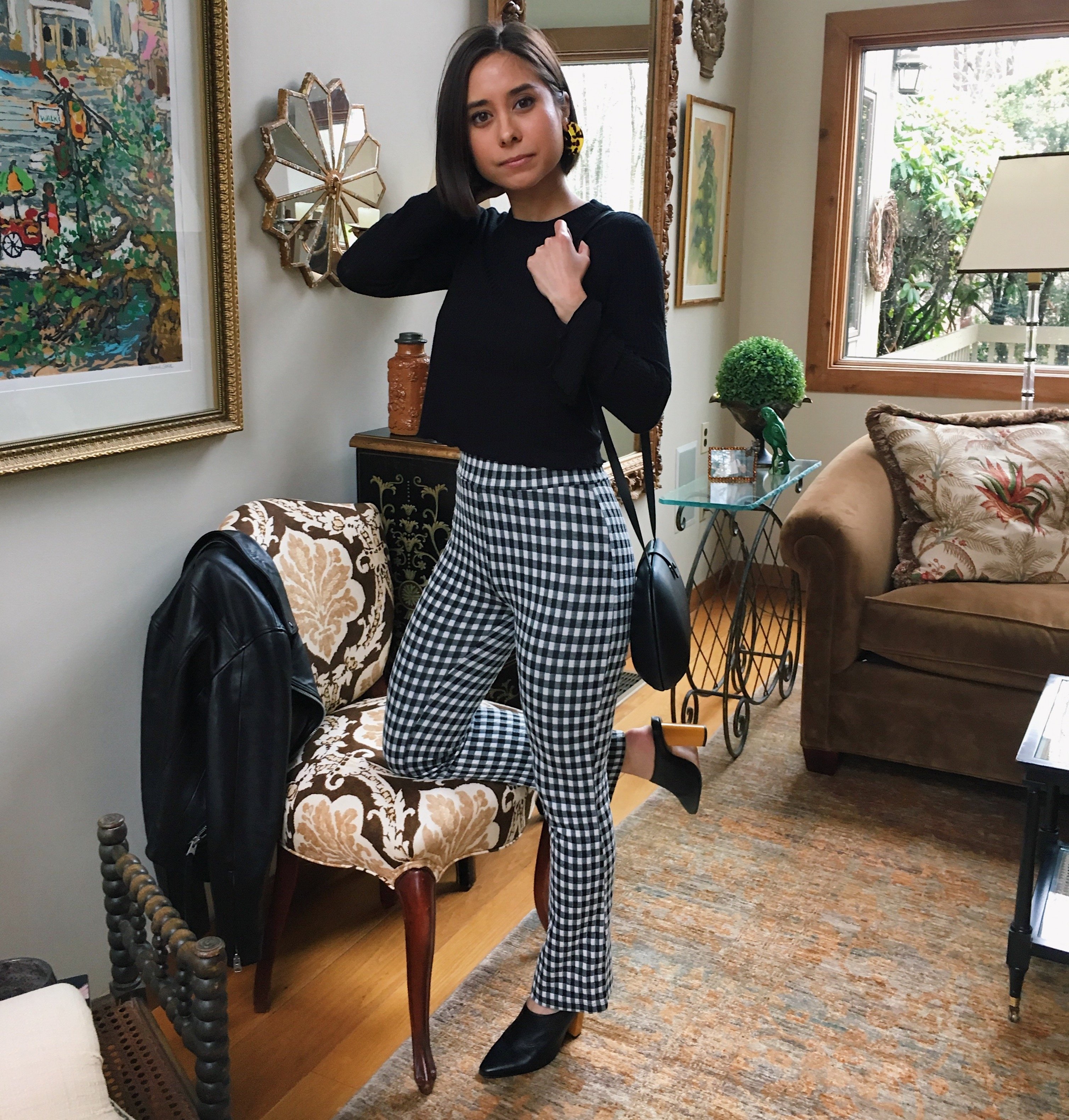 This weekend I put my own spin on a pair of gingham pants for a birthday party in Connecticut.
I wanted my outfit to be both appropriate for meeting the boyfriend's extended family, but to also relaxed and comfortable (because no one ever wants to feel like they tried too hard). The gingham felt perfectly prim and proper for spring, but I added a leather jacket and other leather accessories to keep my look feeling more youthful and less stuffy.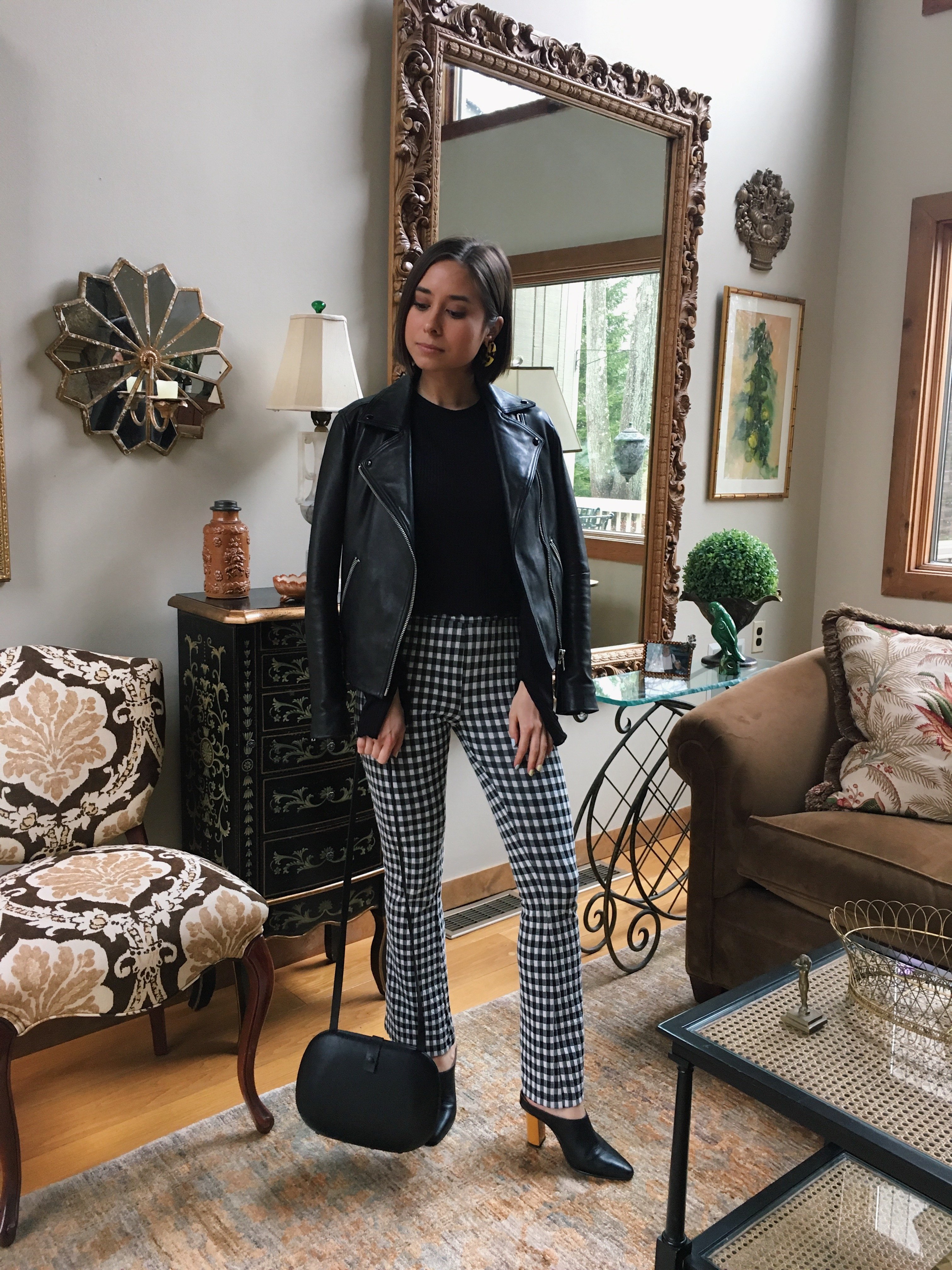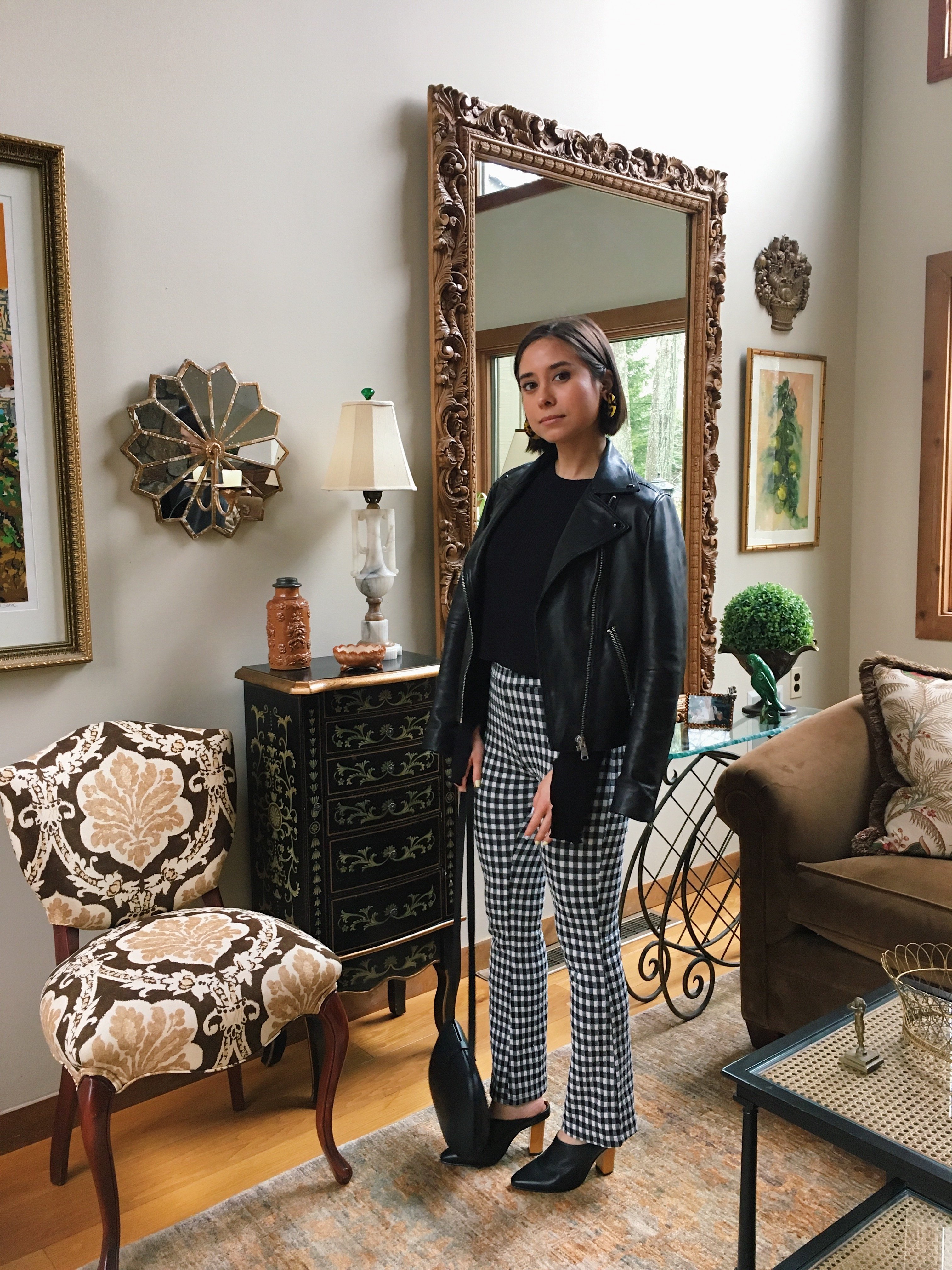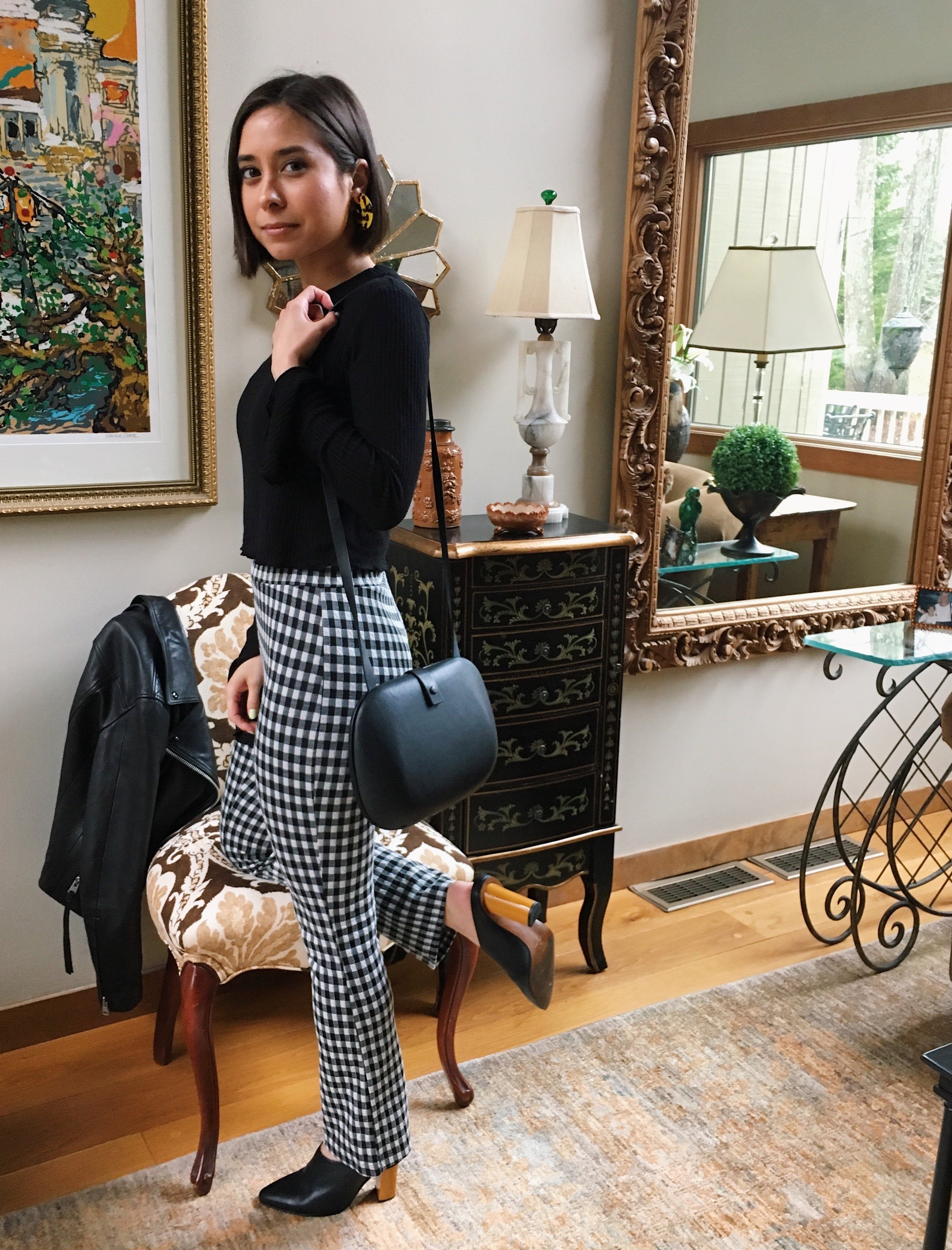 These pants are blissfully stretchy -- I had plenty of room for birthday cake. I paired them with a split sleeve, ribbed top from Forever 21 that I got on sale for a mere $3.50 (not kidding).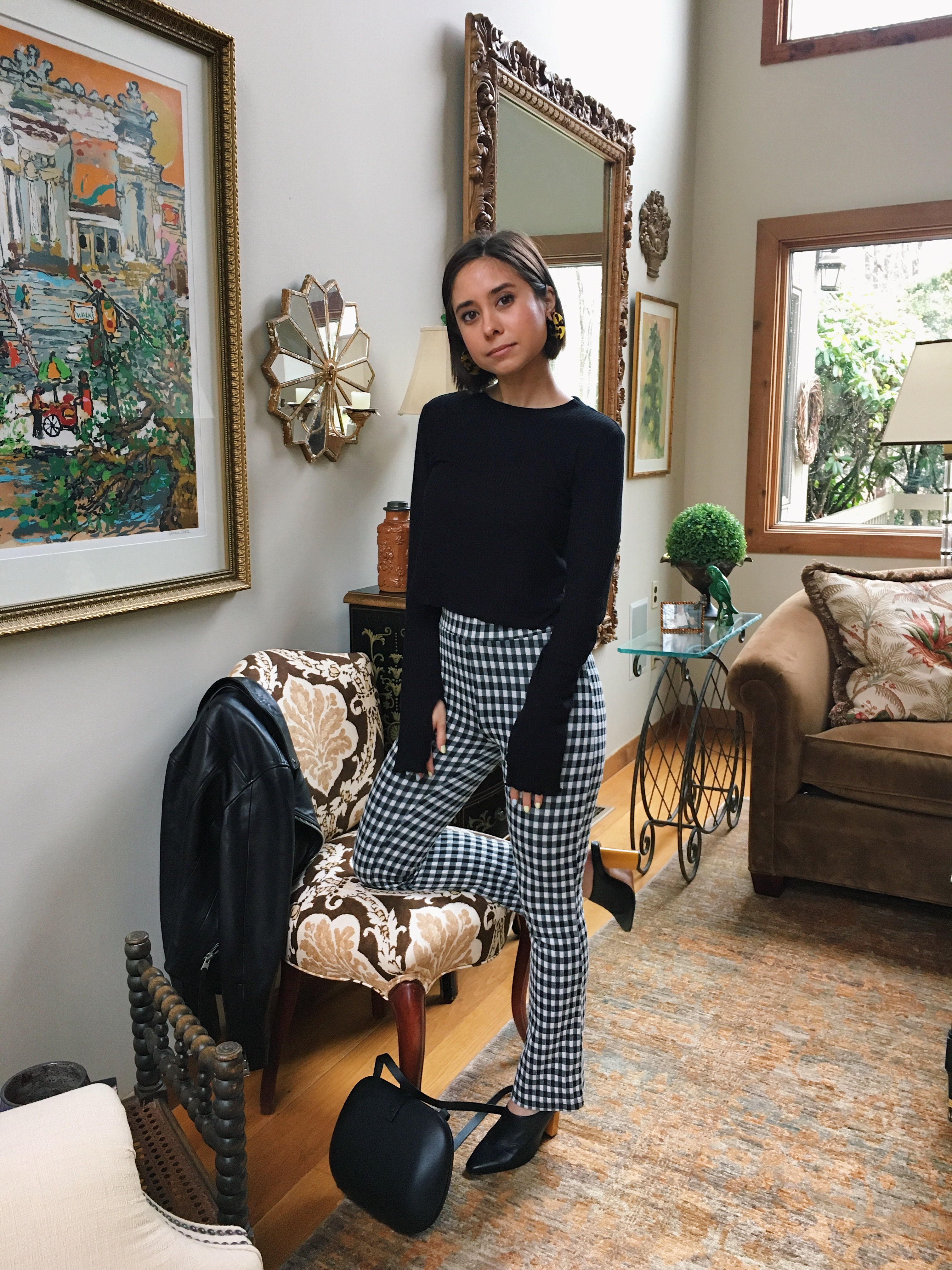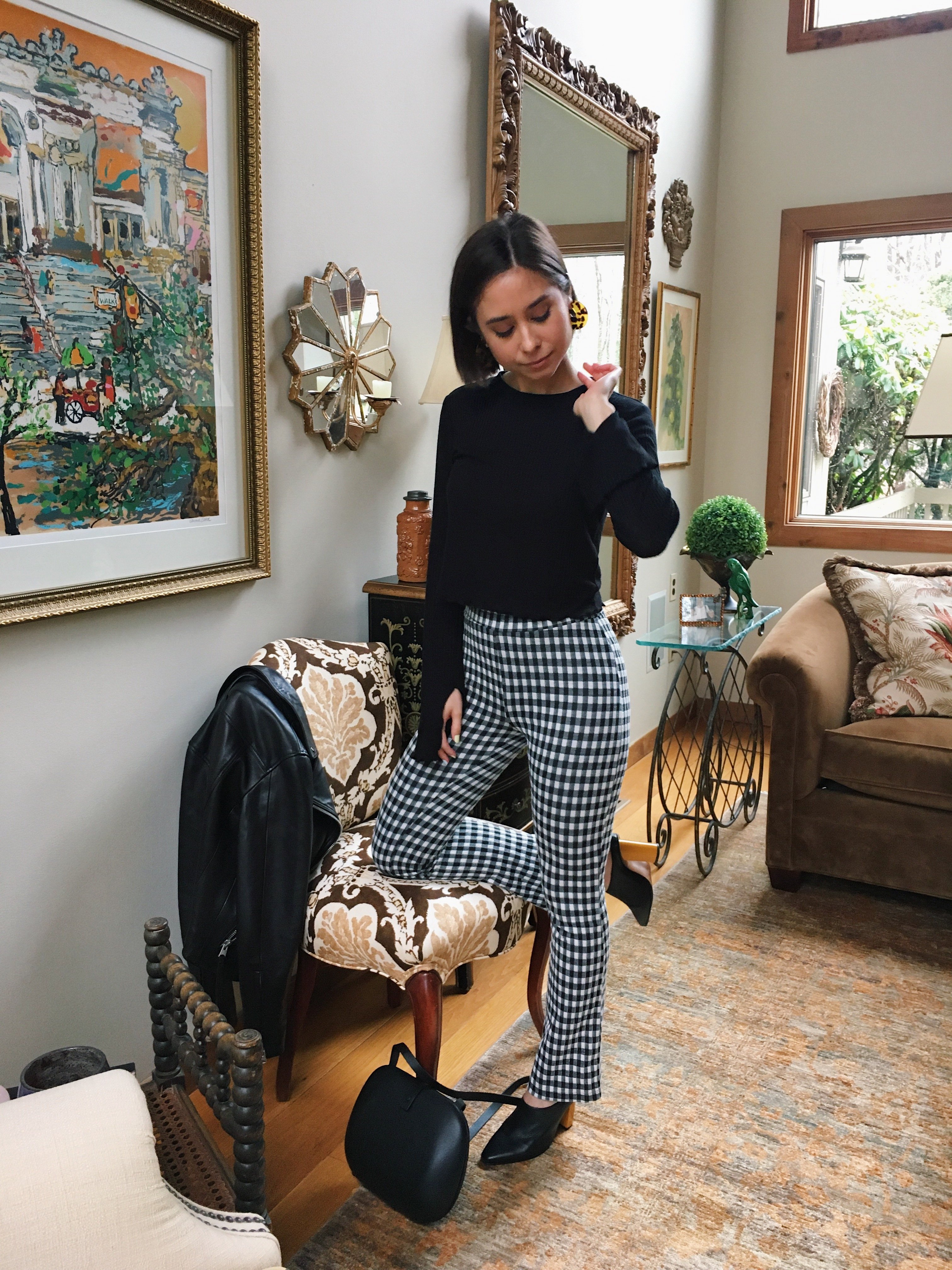 Ever since I chopped off my hair about a year ago, earrings have become my go-to accessory. I picked up this pair as I was waiting in line to pay for these pants. They were an impulse buy, but I love how I managed to make two seemingly clashing prints work in the same outfit. The tan from the earrings picked up the tan stacked heel of my shoes and made me feel extra pulled-together.
I will say though that despite my love of these earrings, I don't recommend buying them unless you make it a habit of carrying superglue in your purse wherever you go. The first pair I bought immediately broke, so I returned them for a second pair that also broke before I even got a chance to wear them. But sometimes I get stubborn, so I decided to do a little DIY repair. Luckily, you can't even tell.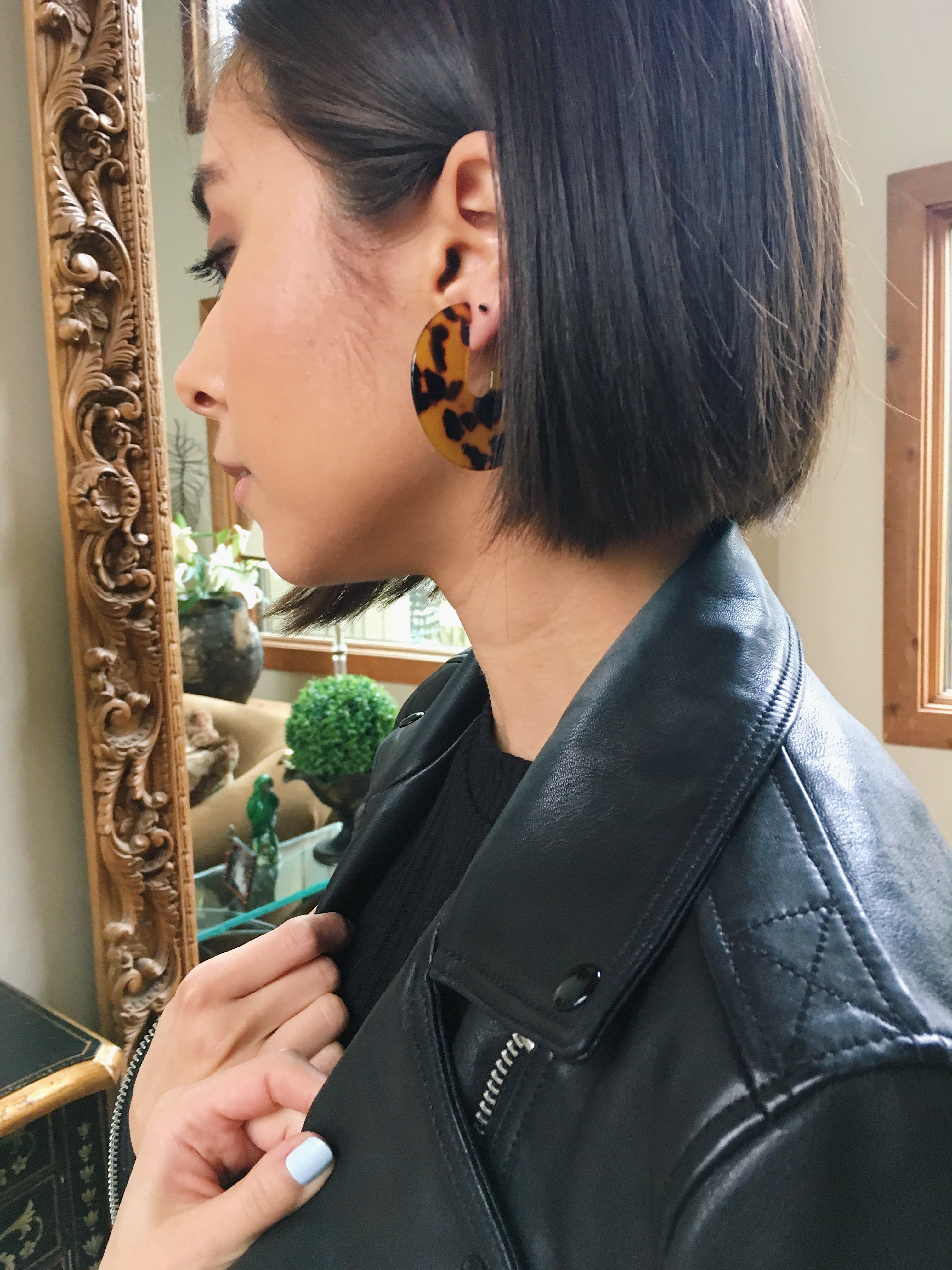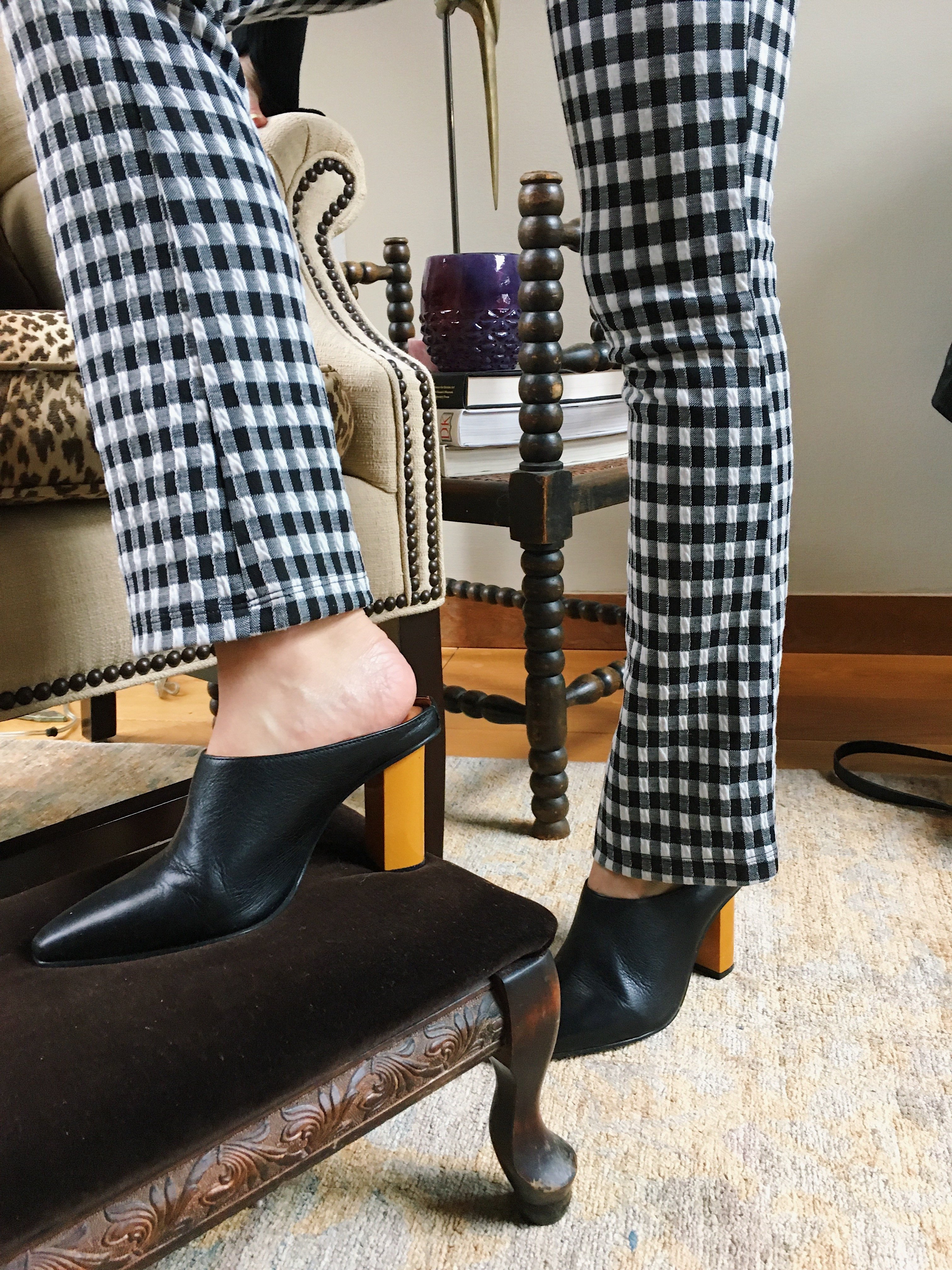 As much as I love trends, bags to me have always been utilitarian first and foremost. If I have one bag that I love, I'll use it every day until it breaks. But lately, I've been on a bag kick. I think it's because in the past year more interesting structured bags have been popping up everywhere. This particular one has become a closet staple (and COS a new favorite go-to for statement accessories that won't break the bank).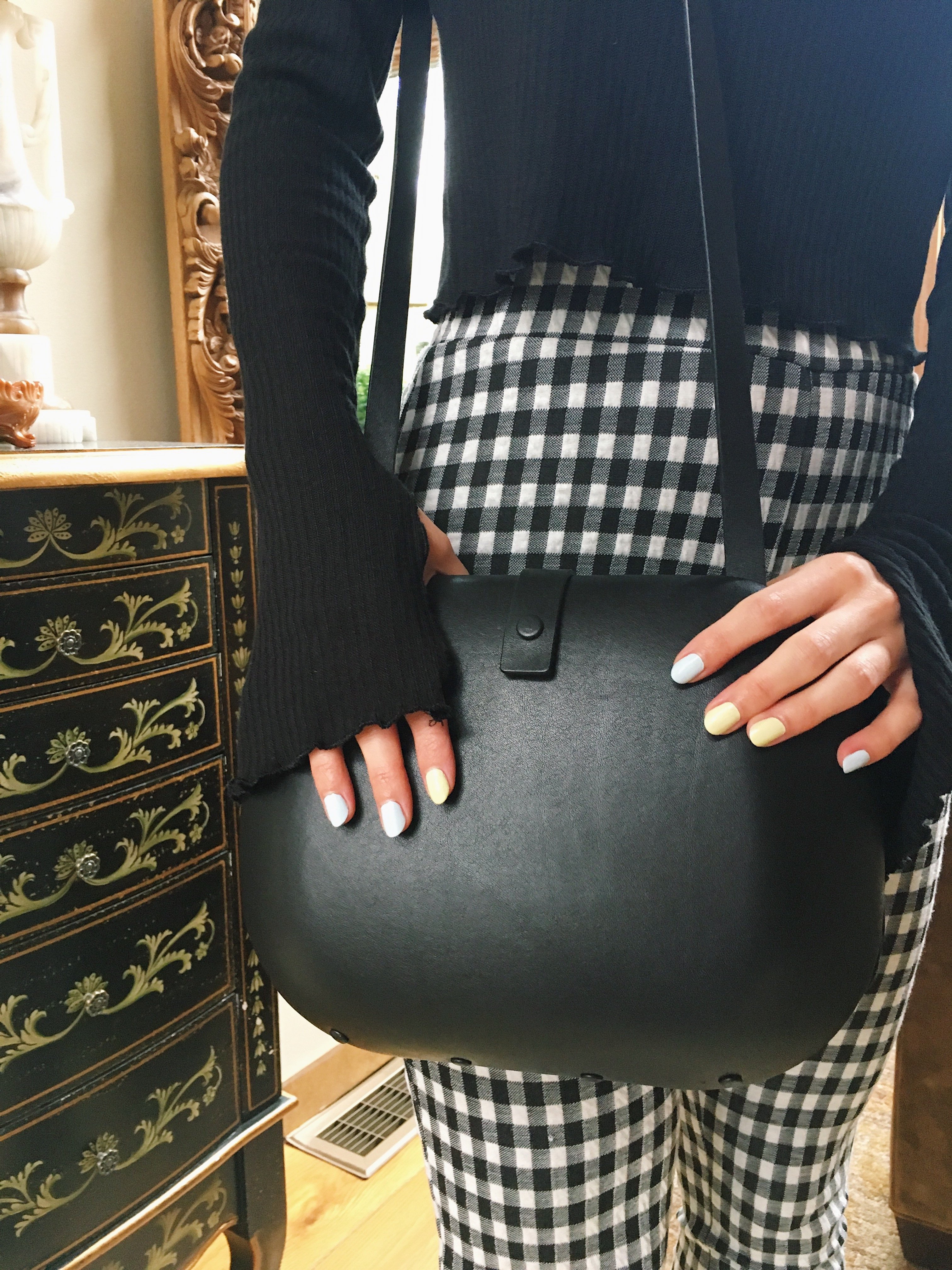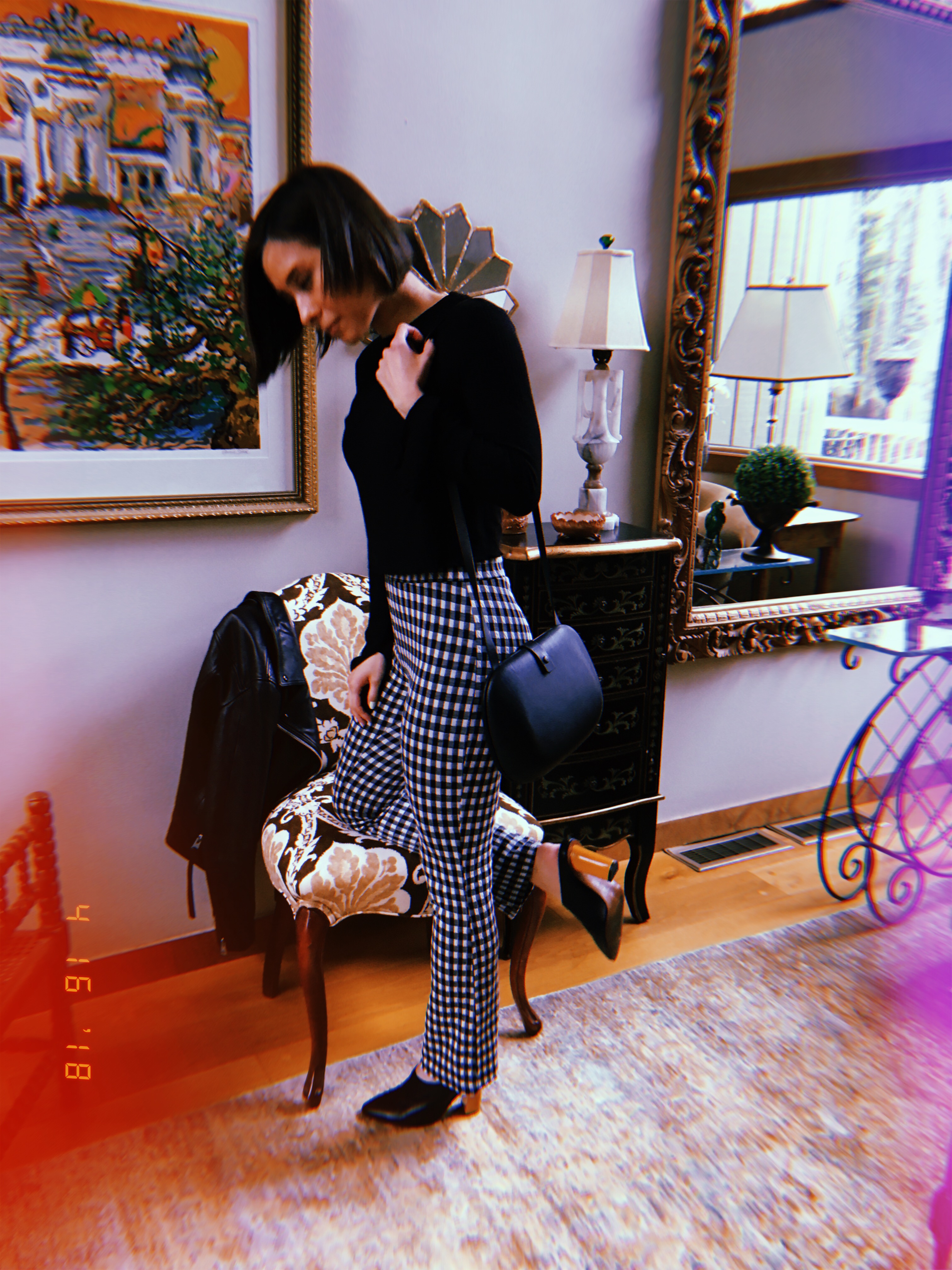 Pants and earrings: Urban Outfitters
Top: Forever 21
Jacket: AllSaints
Shoes: Topshop
Bag: COS