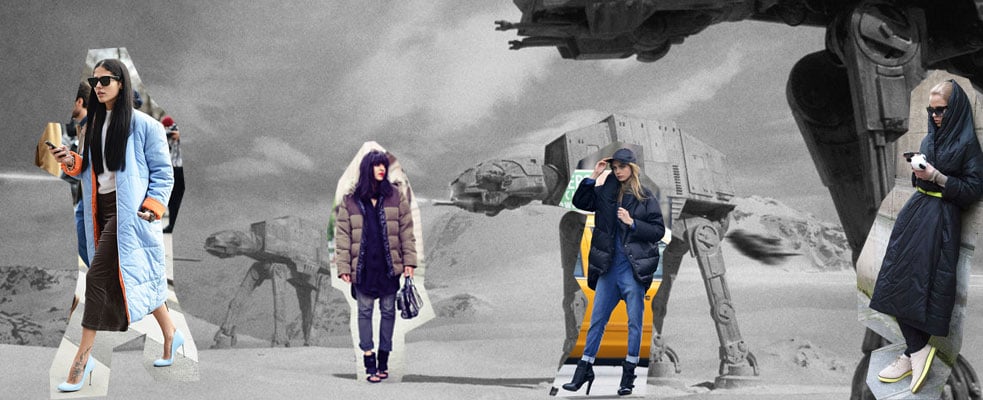 Fun fact: Last January when I was still living in Chicago, I got a few "cold days" from work, meaning it was so freezing outside, it was deamed too dangerous to do anything. So of course, on those days, I spent half my time working in my pjs, and the other half conducting winter science experiements in my backyard.
It was so cold, boiling water turned to steam instantly upon contact with air.
So you can imagine, when I accepted a new job offer and moved to Boston this past November, I thought I was going to have an easy -- even warm -- winter. I was completely, utterly wrong. I'm writing this post during my third Monday blizzard in three weeks. Every time I walk around the North End I feel like I'm navigating a walled-maze, and I'm beginning to think there should be height requirements to go outside, because if it snows anymore, I'm going to be buried under a pile where no one can find me.
I've already given up on the MBTA, but I will not let myself, or you, fall into a style rut. Snowboots, puffer coats, and all, there are still ways to show off your style no matter what the temperature.
1.
Play with different-length layers. Pair a ankle-grazing cardigan with a short coat in contrasting colors.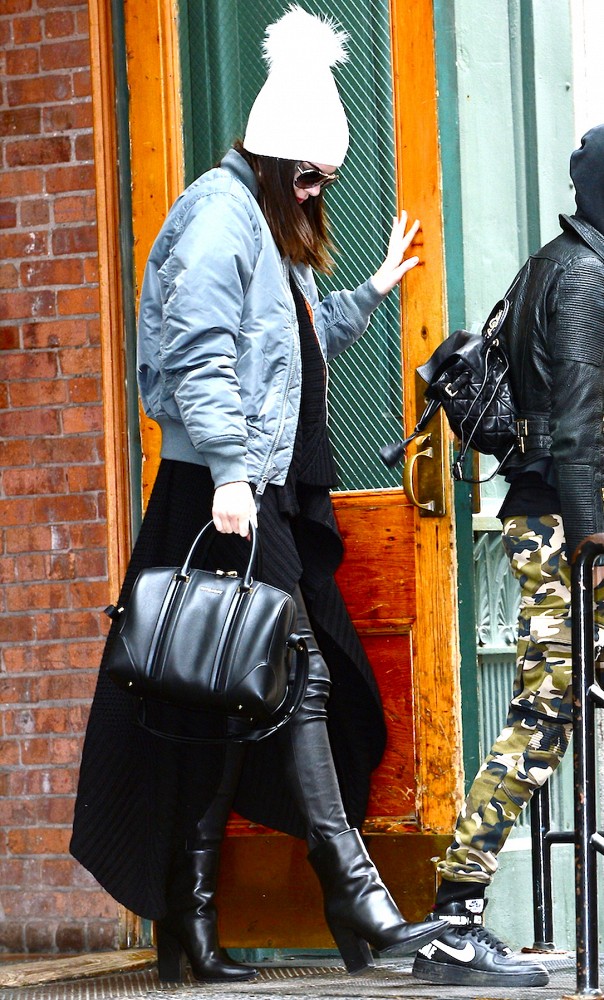 Source: WhoWhatWear
2.
Go big or go home. Puffer coats are huge anyway, so why not ham it up with cuffed boyfriend jeans and an oversized flannel?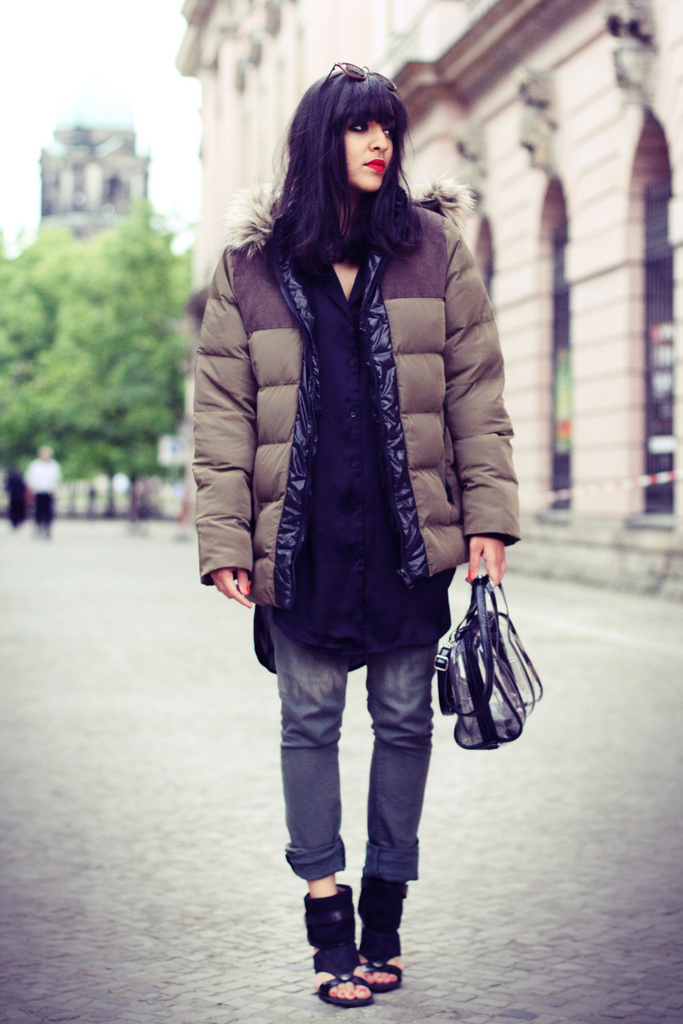 Source: Sidewalk Catwalks
3.
A kimono-shaped coat with wide cropped sleeves adds intrigue to any simple outfit. Style it with skinny jeans and brightly colored tops to make the silhouette really shine.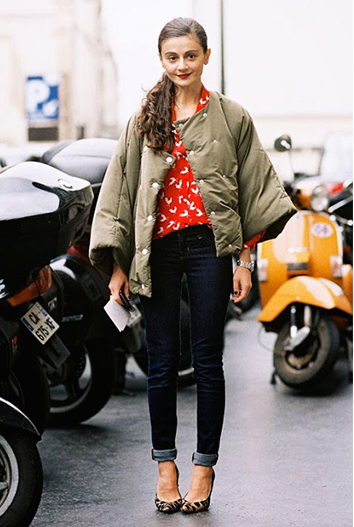 Source: Vanessa Jackman
4.
A neutral color coat in a long length is instantly elegant.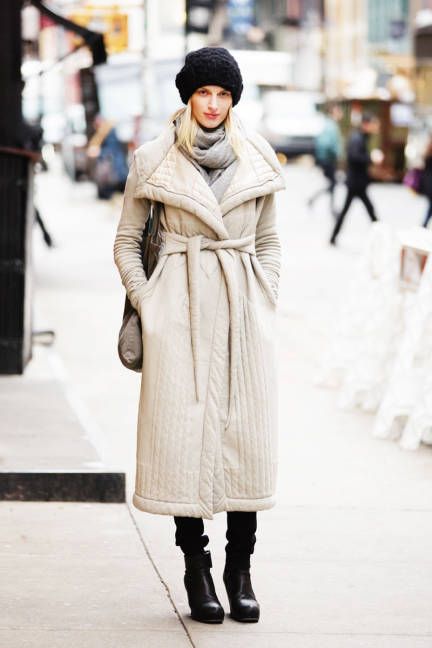 Source: Elle
5.
Keep your parka from looking frumpy on a night out by pairing it with a sweater dress and thigh high boots.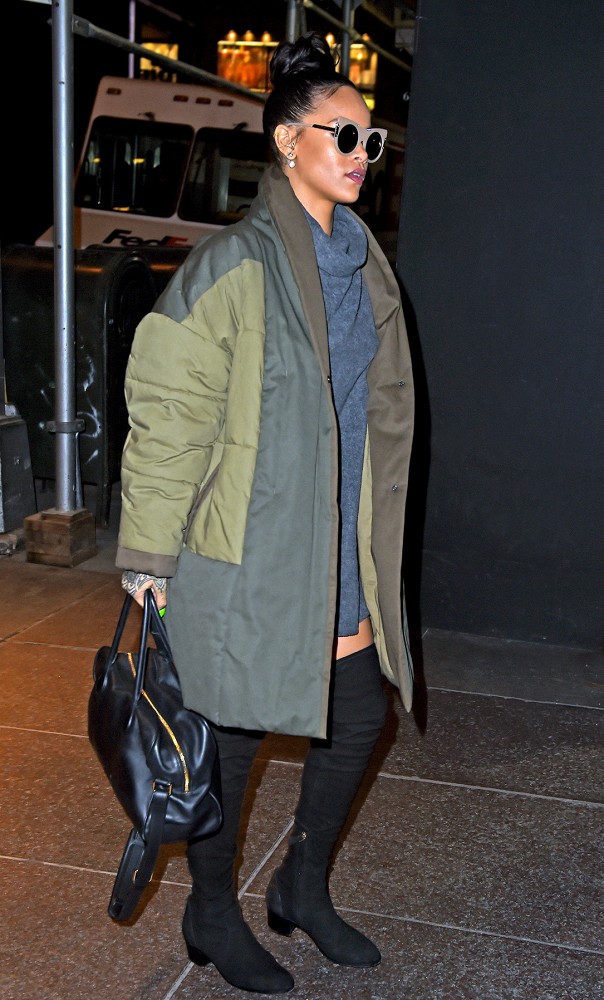 Source: WhoWhatWear
6.
Puffer coats are already distinctly unfeminine, so play up your inner tomboy by pairing yours with a baseball cap and overalls.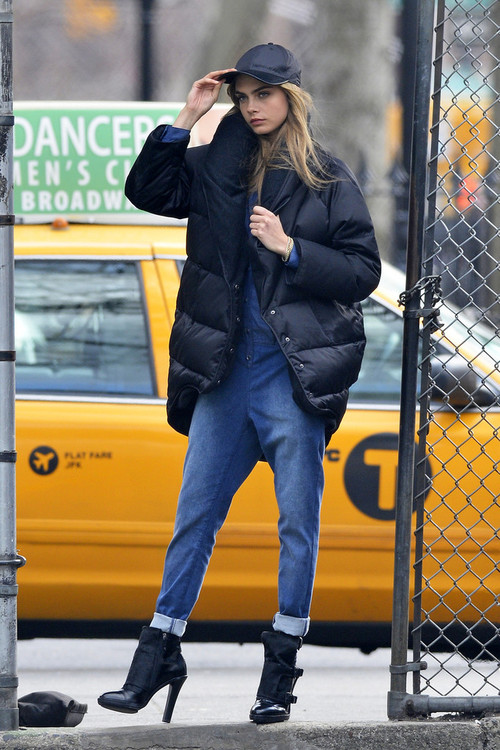 Source: What Do I Wear
7.
Forget dealing with zippers. Leave your coat undone and belt it for a waist-flattering style.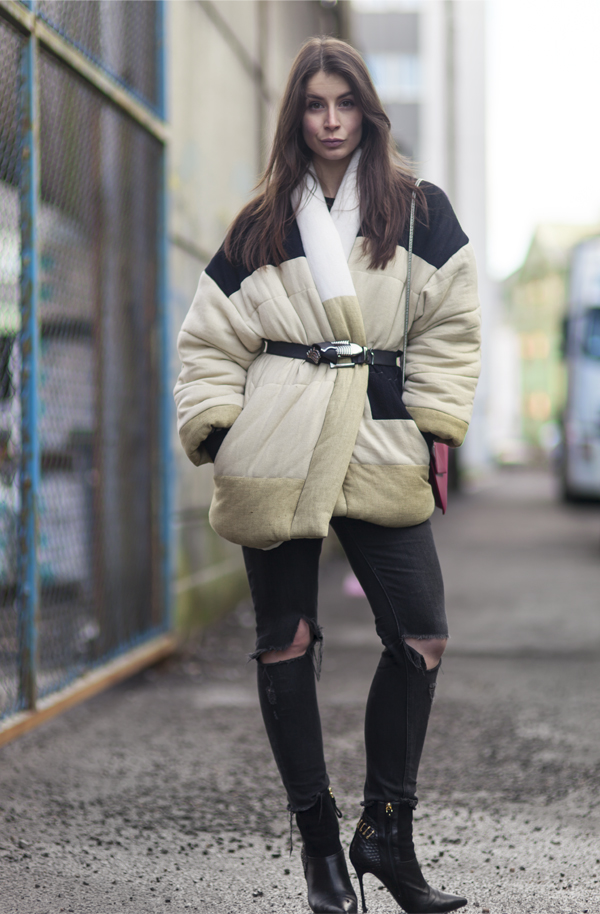 Source: A Portable Package
8.
Choose a coat in a textured wool fabric to match your office-ready style.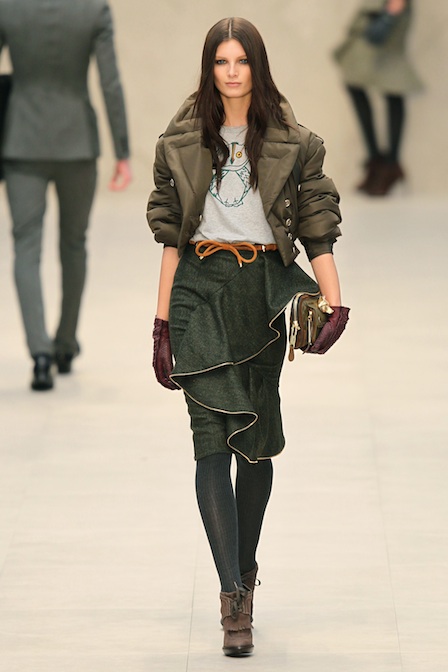 Source: Closet Voyage
9.
Throw a faux fur stole over your sporty down jacket and easily dress up any casual look.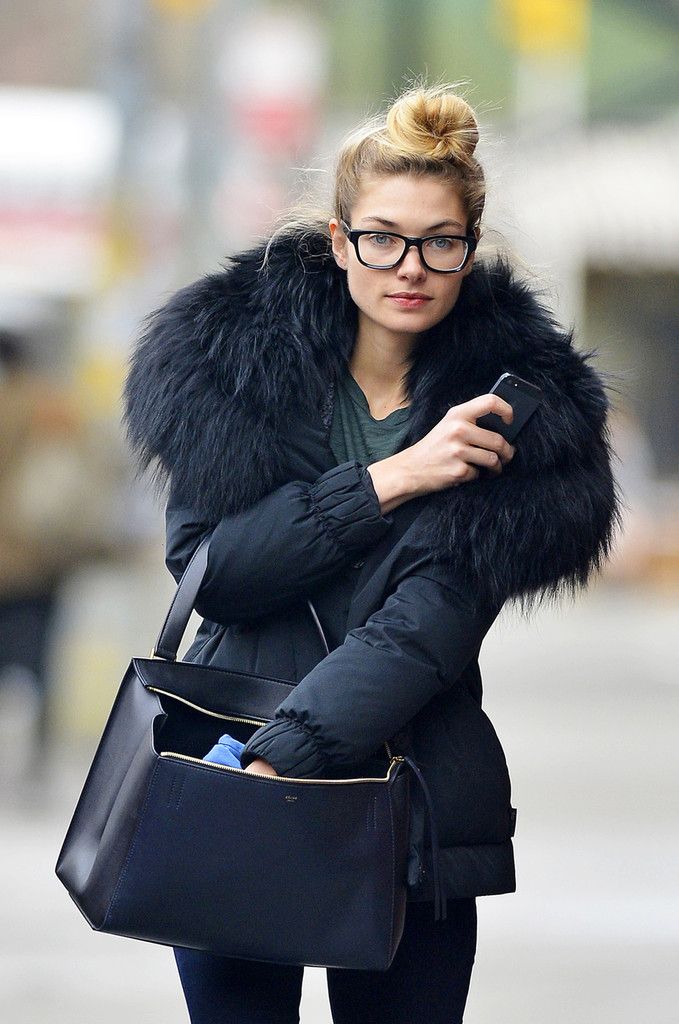 Source: Zimbio
10.
Fully embrace the cold with a cocoon-shaped hood.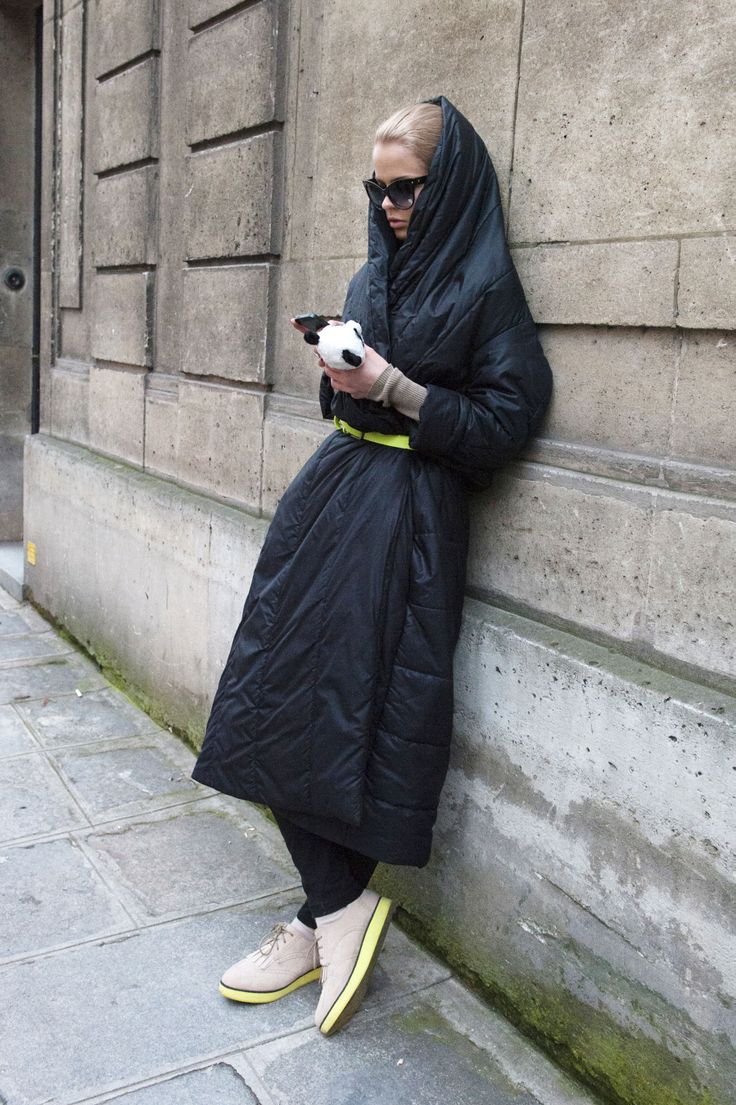 Source: Pop Sugar
11.
Powder blue is in fashion this year, so why not let candy colors be the focus of your winter ensemble? Match your shoes to highlight the coat, and keep everything else simple.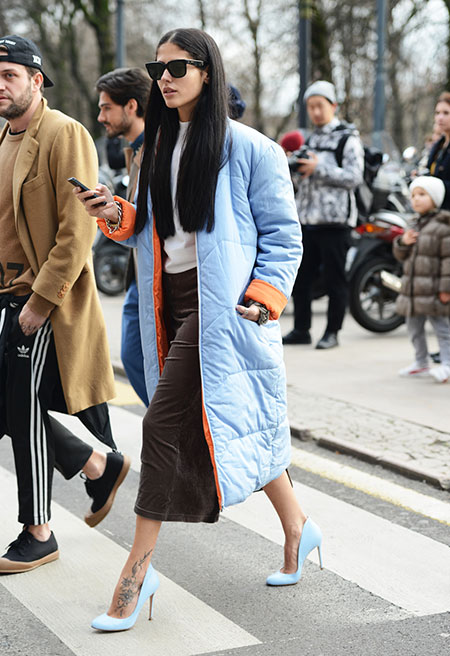 Source: Mark D. Sikes
12.
Try a modified form of colorblocking by matching your coat and purse.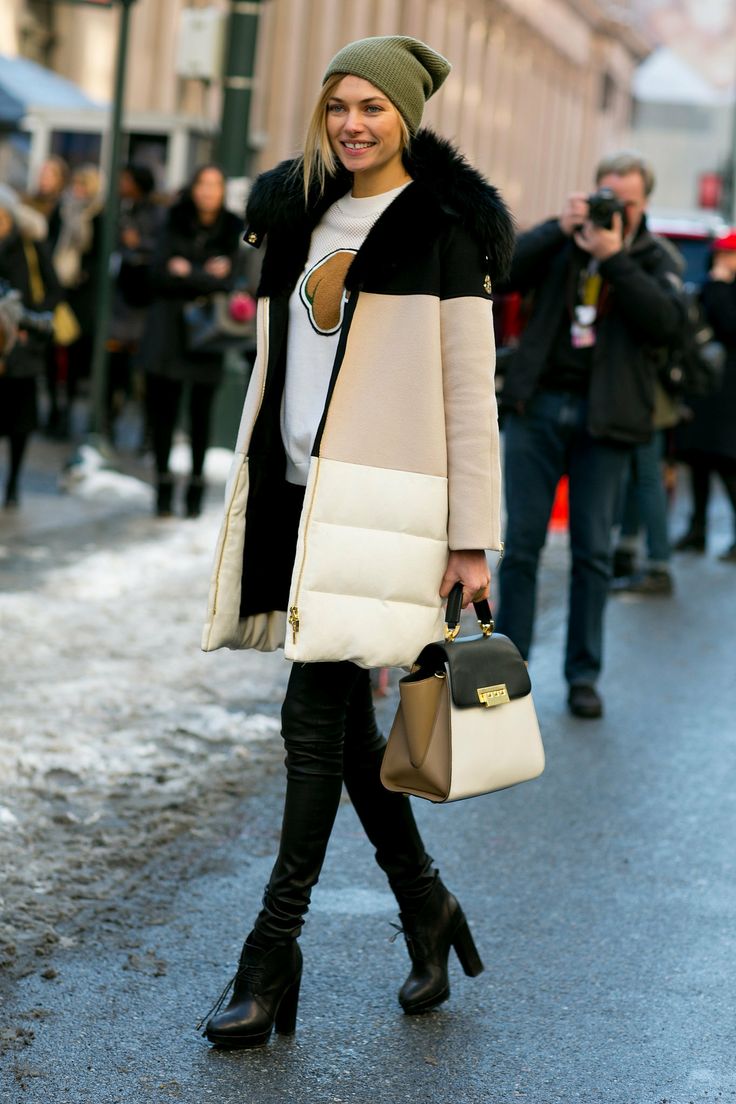 Source: IMAXTREE
Shop some of my favorite coats below: